Last month we were delighted to hear that our wonderful flower kiosk in North Kensington, designed for us by the Buchanan Partnership had been shortlisted for the Wood Awards 2015.
We spoke to Kyle Buchanan to find out a little bit more about the awards and the process that went into creating the flower kiosk.
As July drew to a close and we were beginning to settle into the holiday season, we had a lovely bit of news that our flower kiosk for Mountgrange Heritage at 59 St Helen's Gardens had been shortlisted for the Wood Awards.
The Wood Awards is a national competition for excellence in buildings using wood. It is a very prestigious award and it's a privilege to be shortlisted alongside some of the UK architecture industry's big-hitters like Norman Foster and Feilden Clegg Bradley.
We met with the judges earlier this week to give them a tour of the kiosk. As you can imagine the tour of all three square metres was pretty swift, but this left us lots of time to talk to the judges about how the kiosk was built and provided an unparalleled opportunity to get nerdy about wood!I thought it might be interesting to share some of this nerdiness and a couple of photos of the Kiosk under construction by the team at Hardie Design.
The kiosk is built from tulipwood that has been through an acetylation process, which the supplier described to me as being similar to soaking a conker in vinegar. We used it in a panel form, supplied by a manufacturer in Germany, which allow the 328 individual pieces of wood that make up the outside of the kiosk to be digitally CNC-cut.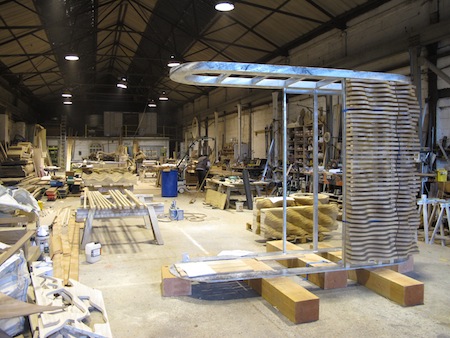 The use of CNC cutting and computer modelling was pivotal in creating the complex form of the kiosk, but the process also relied heavily on the skill and experience of the joiners Hardie Design, who are perhaps more used to working with green oak. This process of going between a computer model, computer-generated cutting templates and a real craft-based knowledge of working with wood was one of the most rewarding experiences for us as architects on the project.
There was a wonderful moment when I saw the outside of the kiosk for the first time. All the design and 3D-modelling that had happened digitally was suddenly there in front of me and it looked all the richer and more exciting for the fact that it was real and made of wood.
7 August 2015
https://www.mountgrangeheritage.co.uk/wp-content/uploads/2015/08/459HE_011.jpg
609
450
admin
https://www.mountgrangeheritage.co.uk/wp-content/uploads/2018/05/mountgrange-heritage-logo.png
admin
2015-08-07 14:41:00
2018-09-03 15:40:49
The Wood Awards Shortlist 2015