How will Crossrail affect house prices around Old Oak Common?
Crossrail and the Elizabeth Line
Crossrail, one of Europe's largest ever construction projects, is rapidly approaching its launch date. When it opens in 2018/2019, it will run from Reading and Heathrow in the west, through Central London and out to Abbey Wood in southeast London, then on to Shenfield in Essex.
The project includes building 10 brand new stations, and renovating a further 30, with project costs predicted to reach £14.8 billion at completion of the new line. When it finally opens, more than a decade after the initial planning stages were agreed and Royal Assent given, it's estimated that 1.5 million people will be able to commute into central London in 45 minutes or less using the new route, which will be called 'the Elizabeth line'.
How will Crossrail affect house prices?
As with all major infrastructure projects, there have inevitably been knock-on effects already, in terms of property price increases along the Crossrail route. Property prices in central London have been amongst the highest in the world for many years, and buyers who are able to afford London prices, whether in prime property locales or in the wider London area, are unlikely to be forced out of the capital by the arrival of Crossrail.
However, it's likely that many will find that they need to look ever further afield to find affordable properties within those parts of London where Crossrail passes. It's predicted that by the end of 2020, prices in areas such as Woolwich, West Drayton and Whitechapel could rise by up to 16%.
Old Oak Common
Of note in regards to Old Oak Common and the surrounding area, is that Crossrail is being combined with an existing project launched by the Mayor's office. Identified as a 'key strategic corridor' for traffic moving in and out of West London, the two programmes between them potentially could be the source of around 24,000 new homes.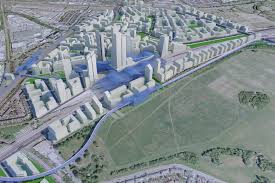 Already drawing attention since the opening of Westfield Shopping Centre nearby, initial feeling about Old Oak is overwhelmingly positive. House prices in nearby Acton are already above £300,000 for a 1 bedroom, 1 bathroom property, so it's likely that an area even more central will soon be able to charge a similar if not higher fee.
Old Oak Common is also in a unique position not just because of the Crossrail programme, but because it is also placed to make the most of access to the High Speed 2 (HS2) rail connection between London and Birmingham.
Old Oak – West London's major transport hub
This crossroads is likely to become a transport hub on par with Kings Cross and Waterloo, offering residents nearby unparalleled connectivity to work in the nation's two biggest cities. Even by last summer, it was estimated that the two Crossrail projects have already added £5.5 billion to property prices along the two routes, and that's before any definite plans regarding future development were set in stone.
Furthermore, the London Borough of Hammersmith & Fulham has thrown their support behind plans to further connect Old Oak Common with Heathrow Airport. Citing the soon to be 'density of rail services' within the area, as well as the wide availability of industrial sites to re-develop, such a space is touted as a 'new gateway into the West of London'. Ostensibly with such a tagline one might expect any developments to be priced relatively high, and inaccessible to the common buyer, yet Downing Street has other ideas.
Whilst admittedly set forth by the previous government of David Cameron, earlier statements about Old Oak Common announced the construction of 24,000 new homes for both rent and outright purchasing, and at affordable prices.
Local MP's were quite insistent that the average prospective home owner should not be priced out of the area, and that attempts should be made to resist Old Oak Common becoming an enclave of wealth exclusivity. Competition for property will almost certainly be fierce, and it would be wise for interested parties to do their research as soon as possible.
Private developers will tout the area's infrastructure links as its unique selling point, and combined with a Central London address, offers a great investment for those looking to purchase London property.
We will watch the development of this area with much interest over the coming years.
If you want any advice on where to invest in London Property, please contact our sales team who would be glad to chat to you.
  Search property for sale in the Old Oak Common area

  Read more of our blogs
Be the first to write a comment.