As an independent agency we often get asked "why should I instruct Mountgrange Heritage to sell my property, rather than the likes of Knight Frank, Savills or John D Wood?"
The answer is simple. We work harder for our clients and we think creatively.  Global reach is straightforward for any agent to achieve thanks to the dominance of internet marketing for property.
What our corporate competitors simply don't have is the focus, experience and knowhow that our bespoke team possess. We may be small, but we are mighty.
We're not bogged down with layers of middle-management or red tape. That means we can think on our feet, we can be flexible with our fees and we can challenge the status quo in order to achieve the very best results for our clients'.
Here's one such example:
Case Study: Lexham Gardens, Kensington
Early in 2017 I received an email from an old lettings client, who happens to be a Surveyor. He had emailed half a dozen agents in the area. The email stated that he wanted to sell a building on Lexham Gardens in Kensington and wanted in excess of £6 million for it. And he wasn't prepared to pay an agents fee.
The building is split into three large maisonettes and he assumed it would be easier, and more valuable, to sell the building as a whole.
As one building there would only be one transaction to see through which would indeed by more straightforward. However, the buyer would be subject to stamp duty on the whole sum. Under current SDLT policy this would have equated to a stamp duty bill in excess £810,000. Plus of course the buyer was expected to pay our agency fee too.
I was surprised to hear that some of the agents approached failed to respond.  I can only assume they were put off by his statement about fees and the difficulty of selling such a building in a subdued market.
Thinking creatively and having the courage of conviction
Having thought about the sellers proposal, I was convinced the best thing to do was to sell the three flats separately. Yes there would be three buyers, three transactions and more complexity. But each buyer would have less stamp duty to pay and the client could achieve a much better result.
Until I suggested it, he had not considered this as a serious option.  I worked hard on the case to convince him that this would be the best way forward.
I valued the flats collectively at £7.25 million. They could be sold at the full asking price if he was willing to be patient while we found the right buyers.  They were beautiful period flats with a huge amount of potential.
Flat One. Garden Maisonette. £2.5 million
Flat Two. First & Second Floors. £2.75 million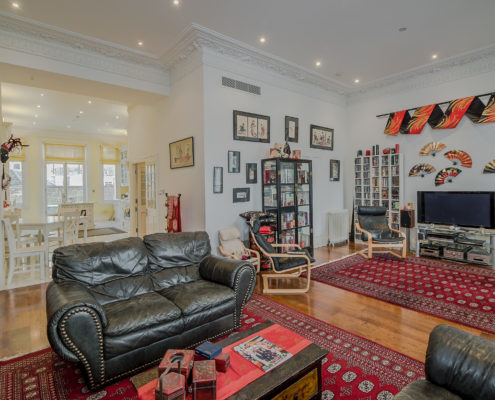 Flat Three– Upper Maisonette. £2 million
Gaining an extra million pounds in six months
Because the house was registered as one freehold, we needed to create three new leases in order to sell the flats, which his solicitor did under our advice.  Once the last flat was sold, he would then transfer the freehold over to the three new owners so they could share the freehold.
It was this creative thinking that won us the sole agent instruction to sell the property.
Flats two and three sold quickly but flat one took six months, and 73 viewings.  Of course there were times of frustration where buyers were found then lost and we wondered how long it would be until a deal was reached.
But six months after putting the flats on the market we had sold all three for their full asking prices, meaning the whole building achieved a total of £7.25 million.
At the outset we could have taken the easy route. We had a developer buyer willing to pay £6 million.  However, we knew this was not the right path to take, held our nerve and went for the more difficult but ultimately more rewarding route for both our client and us.
To put it crudely, we made our client over a million pounds extra, in six months.
What about the fees?
I mentioned at the outset that the client didn't want to pay agents fees.
However I convinced him that any buyer who is expected to cover the agent's fee would simply knock this amount off their offer price.  The agent is also working on behalf of the buyer not the seller. Therefore the seller never benefits from this arrangement.
After discussing fees, we agreed on a performance related structure to encourage the team to get the full asking price; we agreed a baseline fee up to a threshold (which we set 10% below the asking prices) with an additional bonus fee structure for everything achieved above this threshold.
Client Testimony
"I emailed Mountgrange Heritage along with half a dozen other agents when I wanted to sell Lexham Gardens.  I knew of them as they had been managing agents for another property of mine.
We are very pleased with the service that we have received from the team at Mountgrange Heritage through the process of selling our property. They were more proactive than their competitors in taking steps to win the instruction, and their advice in terms of a sales strategy produced an excellent result. At a time when the London residential property market is reported to be struggling, we were also very impressed by the number of viewings that were achieved, and both the level of interest and offers that were generated. We would be very happy to recommend Mountgrange Heritage to anyone thinking of selling in this area."
R.F.
This case study just goes to show that good estate agency is not about expensive offices or big marketing budgets. It's about working as hard as you can for each and every client. That includes thinking creatively about every property. We see estate agency as an art, which takes years to master.
Talk to me today so see how we can make a difference to your property.
Michael Wilson, Managing Director – Head of Sales
More from our blog
Bank of England interest rate rise
https://www.mountgrangeheritage.co.uk/wp-content/uploads/2017/11/6-cropped.jpg
2364
2072
Judith Pons
https://www.mountgrangeheritage.co.uk/wp-content/uploads/2018/05/mountgrange-heritage-logo.png
Judith Pons
2017-12-15 10:19:54
2018-12-17 11:21:02
Why should I appoint Mountgrange Heritage to sell my property?