Finding a property to rent in London can be a stressful experience. Whether you are renting for the first time or looking for a change, you need to plan ahead to beat the crowds to the property you like.  Although it can be exciting booking appointments, don't rush into the search before you've sorted out a few crucial things. Having these in place will allow you to act quickly when you find the place you want to rent, rather than scramble to get information and potentially miss out to other, more organised renters.
It's a busy market so sharpen your pencil and get ready…
Work out your weekly budget and how far you can stretch to
Work out what you can actually afford, remembering to factor in deposits that will need to be paid ahead of the tenancy and bills such as electricity, water, council tax. It is always worth viewing properties that are a little over your budget as there may be deals to be made with potential landlords, especially if you plan to stay longer term.
Although you'll be paying your rent monthly, most properties are advertised at a weekly rate.  To work out what weekly rate you can afford, simply divide your monthly budget by 4.5 Most deposits tend to be 6 weeks rent in advance so remember to factor this in too.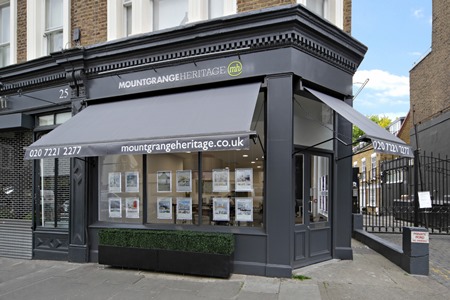 Register your interest with local estate agents
If you know which area of London you want to live in, contact the local agents to register your interest. Don't just rely on Rightmove and Zoopla for your property search as rental properties often don't make it to these portals; agents will ring around their list of interested tenants when they get new properties to rent. If you're not registered with agents, you may miss out on the best new properties.
Have your ID & References ready
It is always helpful to have your ID ready before you start your search. These days you will need to pass the Right to Rent checks.  For most people this will be a valid passport, which will need to be presented in person to your Lettings Agent before your tenancy can begin.  It is also beneficial to have your references lined up ready to prevent any delays once your offer has been accepted.
How long do you intend to stay?
Although no one can see into the future, have a think about how long you want to live in your new property and how flexible you require the tenancy to be. Some people may want 12 months with a 6 month break clause to allow them flexibility to leave should circumstances change. Others prefer to sign on to longer tenancies for more security. Families often prefer to sign up to a two-year contract, especially if they have school-age children. Knowing your tenancy length will help in negotiations with landlords.
When do you need to move by?
Landlords ideally want to avoid long periods of time between one tenant leaving and another moving in so it helps to know when your earliest move date could be. This will help your Letting Agent as it will allow them to suggest appropriate properties for you to view with availability dates that match your requirements.  Most of our tenants start their property search with about six weeks before they need to move and those that can be most flexible about moving dates tend to be the most successful. For example, if you find a place you really like at the start of your search, you may need to bring your moving in date forward.
Consider location and lifestyle must haves
Before you start looking at local properties, have in mind your ideal location and what amenities you need nearby.  Do you need to be close to certain tube station or line? How far are you willing to walk to reach these amenities? Do you want to be near a park or other open spaces? Do you need a pub on the corner? Do you need private or on-street parking?
When looking at properties it is also a good idea to think about your own lifestyle.  Are you a night owl who likes to have a bevy of local restaurants and bars on the doorstep with a buzzy atmosphere or do you prefer a quiet retreat from the hustle and bustle of everyday life?  Although we rent properties in the heart of London, there are lots of quiet streets in Notting Hill and Kensington – as there are busy thoroughfares.

What type of property do you want to live in?
This doesn't just come down to whether you prefer to live in a new build or period property. If you are more security minded then you may want to rule out ground floor and go for something more secure on a higher level or in a portered block.  Do you need your own outside space and is a roof terrace enough? Do you need a lift if the apartment is located on a higher floor or are you prepared for a walk if there isn't?
If you have a car don't forget to ask about the parking options if the property does not come with private parking. Find out if you are able to get a residents' parking permit from the council – please be aware however that if the property you are looking at is a new build then the council will not issue a permit.
Be open-minded!
Although we've asked you to think about your exact requirements, the property that ticks all these boxes may not be on the market when you're looking.  This means you should also be open-minded and prepared to compromise. Discuss your wants and needs with your Letting Agent and if they suggest something that doesn't match all your requirements exactly don't rule it out altogether, your perfect property may just end up being something you didn't expect!
Be decisive
Renting property in London can be a very competitive game so if you find a place that you like, try to make an offer as soon as possible. If you wait too long then chances ae someone else might snap it up! This applies to the first property you see; if you like it don't rule it out just because it's the first one – go for it!
Good luck in your search for a new London property – and remember a good Letting Agent can make your search a whole lot easier.
  Read more of our blogs.
Jared Kilgarriff
Lettings Director
https://www.mountgrangeheritage.co.uk/wp-content/uploads/2016/10/IMG_5581_1_edited.jpg
300
450
admin
https://www.mountgrangeheritage.co.uk/wp-content/uploads/2018/05/mountgrange-heritage-logo.png
admin
2016-09-22 15:23:37
2018-12-04 15:43:25
Top tips to find a property to rent in London