Where are the best places to invest in west London in 2017?
After a turbulent 2016 for the London property market, the prospects for this year look a little more stable. Many forecasts put growth at around 3% for London as a whole but as we all know, London isn't one market. It's a complex jigsaw of micro markets. While many parts of prime central London continue to experience falling fortunes (as much as 15% in some cases), others further out are performing well with good prospects for growth. So where are the best places to invest in west London this year? Head of Sales Michael Wilson gives his thoughts.
1. Stations along the Elizabeth Line
The Elizabeth Line will be the culmination of one of Europe's largest infrastructure projects when it opens in 2018. Built by Crossrail, the line will transform travel across London. The Elizabeth line will stretch over 60 miles from Reading in the west to Shenfield and Abbey Wood in the east and will stop at 40 stations on its route, 10 of which are being built from scratch.
House prices along the route have already risen in anticipation of the line opening and these are likely to continue to rise as new residents are attracted by the improved transport links.
Areas with untapped potential on the Elizabeth Line include Acton, Ealing, West Drayton and Hanwell. These areas not only possess good stocks of period housing but also offer house-builders potential for new developments.
Not traditionally seen as fashionable, these areas are ripe for gentrification as buyers move further west to seek more property for their money. And if the 3rd runway at Heathrow ever takes off (excuse the pun), these nearby areas will benefit from the economic opportunities it will bring.
2. Bayswater
A recent article published in CityAM stated that 'around any piece of prime central London, you'll find a forlorn district on the outskirts whose fortune has improved immeasurably in recent years.' Nowhere is this truer than in Bayswater. Long the scruffy and culturally uninspiring neighbour of Notting Hill and Marylebone, times are changing for W2.
The regeneration of Bayswater's jaded old high street, Queensway, and Whiteleys Shopping Centre will give the area a modern heart to be proud of. It's said that the redevelopment will create a modern urban village to rival Covent Garden and this will only serve to strengthen its appeal to investors over the coming years.
Bayswater boasts some wonderful housing stock; imposing Georgian and Victorian townhouses as fine as any you'll see in central London but at a lower price per square foot than in neighbouring areas and nearly half what you'd pay in Knightsbridge on the other side of Hyde Park.
In addition to this, many of the shabby hotels are being transformed into high end apartments, increasing the area's appeal to young professionals, and the global elite. The proximity to the transport hub that is Paddington station and the beauty of Hyde Park on the doorstep all adds to the winning formula.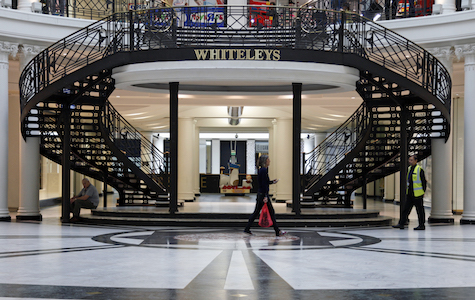 Although house prices in Bayswater stalled in 2016, long-term we expect them to perform well as the regeneration starts to take shape.
3. Brent – Harlesden
Brent may not have the kudos of neighbouring boroughs such as Kensington and Chelsea and Hammersmith and Fulham but it includes increasingly fashionable and culturally vibrant areas such as Queens Park, Kilburn and Kensal Rise. The huge regeneration of what used to be a concrete wasteland around Wembley stadium has contributed to a borough wide increase in property prices. Indeed, according to Rightmove, house prices in the borough have risen 12% since 2014 and we expect them to perform well over the next few years.
One part of Brent to watch with interest is Harlesden. The NW10 area boasts great period housing stock and a 15-year plan by Brent Council to regenerate the town centre. Not only this, the anticipated transport 'superhub' planned at Old Oak Common will have a huge impact on surrounding areas including Harlesden and Willesden. Where transport links go, people will follow!
Harlesden is fast shaking off its slightly shady past and starting to attract families and professionals priced out of Queens Park and Kensal Rise.
If you would like advice on where to invest in property in 2017, we'd be happy to offer expert advice.
More from our blog
Read about how Crossrail will affect house prices
London property market forecast 2017
Feedback
One thought on "Where are the best places to invest in west London in 2017?"