Kyle Buchanan is a partner at Buchanan Partnership and worked most recently with Mountgrange Heritage on the design of the innovative flower stall outside our St Helens Gardens office. Here he gives us his tips on how to design your dream kitchen without a hefty price tag.

It seems to be an established fact that the kitchen is now the heart of the home, and certainly when we work with clients on the design of their homes, it is the one room in the house that dominates design discussions from the start to the end of the project.
There is so much choice available on the market today that it can be a mind-boggling process choosing a kitchen. There are of course some excellent kitchen suppliers that will guide you through the process of installation from first concept to giving your Carrara worktop its monthly buff, however, unless you are really working with a top end budget then you can often end up with an off-the-shelf solution. This works well for many people, but for those who are seeking a more custom look, without the hefty price-tag, here are a few simple ideas that we use with our clients to create great custom kitchens without a breaking the budget.
Given that materials and finishes have the most impact on the look and feel of a kitchen, a strategy that we often adopt when clients are on a budget is to specify off the shelf cabinets, units and appliances from big-name suppliers and then to customise the bits that really matter. This means that we concentrate the budget on the things that you touch and handle every day: the worktop and splashback; the door-fronts; handles and taps. So here are three examples of materials that we have specified recently for key elements of the kitchen.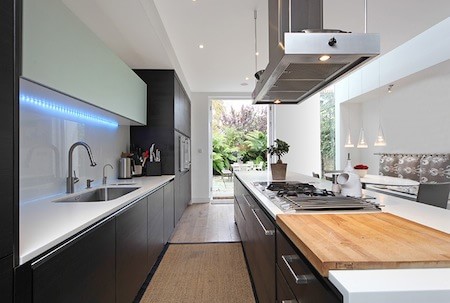 Worktops and Splashbacks
The worktop and splashback form the main surfaces of the kitchen, and the ones that you look at and touch most when you are cooking. We like to use robust materials that can handle the knocks, and if they do take a couple of dropped saucepans over the years look none-the worse for a bit of character.
Concrete Worktop – There are several companies that produce concrete worktops. They generally have a fine grain to the concrete and can almost look like stone, but with a more industrial edge. Mass Concrete and White and Reid are two examples.
Terrazzo – Terrazzo makes a great worktop finish, tough, durable, and comes in an amazing range of textures and colours. It is essentially a marble chip bonded together with resin or concrete. We have used In Opera before with success.
Reclaimed tiles – More for the splashbacks rather than the worktop, but reclaimed tiles can add real character and texture to a kitchen, there are some great one-off tiles available at Bert and May.
Door Fronts and Shelving
Pattern and Colour – Forget about bircher muesli, a bold colour scheme in the kitchen is the thing to get your day off to a flying start. We really like the subtle patters and bold colours of Superfront doors designed to fit on standard Ikea units.
Plywood – Plywood can make a great low-cost material for door fronts to give your kitchen a bit of industrial-chic. This does need to be done by someone who knows what they are doing as plywood will twist out of shape if not properly fitted.
Bespoke shelving – Some bespoke shelving can really make a difference in the kitchen, and can be made to suit almost any budget. Really thinking about how you are going to use the kitchen is important here – for instance where you are going to sit the iPad, so that it is out of the way of chocolaty fingers.
Fittings
Custom taps – It takes a bit of searching, but you can find customisable taps, where you can change the colour of the outer sleeve for example. There are also companies that will powder-coat them different colours, but our favourite of recent times has been getting a tap electro-plated gold!
Worktop to bench – This is more of a design move than a product, but I wanted to add it, as we have designed these a couple of times recently to great success. Turning a worktop down the side of the kitchen units to form a bench or seat can be a really nice way to keep a visual continuity going in the kitchen and really making the most of it as a social space.
Pegboard – I am a big fan of making the most of wall space in the kitchen, as there always seems to be clutter hanging around. Pegboard is a great way to create some really flexible storage to hang things on the walls, and it looks great as well.
So I hope this gives you some ideas to getting on with, but one parting thought is that what makes a kitchen is how you occupy it. It's the settling in, the little touches like a bunch of fresh flowers, the pictures you hang alongside the drawings from nursery, the long suppers and children's parties that really make it the heart of the home.
11 February 2015
https://www.mountgrangeheritage.co.uk/wp-content/uploads/2015/02/IMG_2979_edited-copy_Low-min.jpg
303
450
admin
https://www.mountgrangeheritage.co.uk/wp-content/uploads/2018/05/mountgrange-heritage-logo.png
admin
2015-02-11 13:29:45
2018-09-13 13:43:10
Tips on How To Design Your Dream Kitchen without Breaking the Bank