Its a simple question: how can I sell my house fast? And the answer is quite simple too. We all know that most buyers tend to forge their opinions about a property within a few seconds of stepping over the threshold so it is absolutely vital to make your house shine over Mr and Mrs Jones' next door – or down the road.
This has never been truer than in the current market. Whilst the press are starting to fill the public's mind with the idea that prices are falling fast (which is not actually true) it is vital that you give your house the best chance of being shortlisted, if not snapped up in the first throws of any marketing campaign.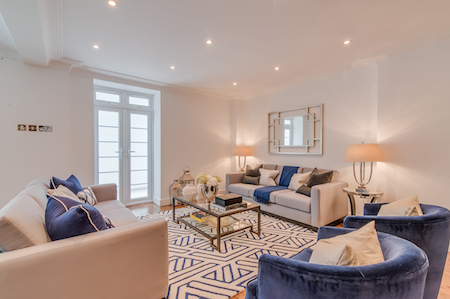 Sell house fast – Dress to impress!
Whilst full property dressing/styling has become very 'a la mode' in the last few years it is not always necessary to do a complete makeover to set your house apart from your neighbour's. The smallest of changes can often have the biggest impact. This is especially important in a less energised market.
I am certainly not saying that every room has to be adorned with fresh flowers or Jo Malone candles but last night's lasagne dish in the sink, dirty laundry on the floor and an unmade bed can be off-putting and set the wrong tone. It ultimately means that your property won't sell in a timely manner, or for the best possible price.
I was recently instructed to sell a two-bedroom apartment in Lexham Gardens. My client wanted to sell with the tenants in situ but I advised him to wait for the tenants to leave (it didn't help that the reception room had been turned into a boy's games console den), repaint the property (not in magnolia), re-grout in the bathrooms, steam clean the carpets and use key pieces of furniture to style the flat. He duly took note and lo and behold two weeks after we started marketing we received an asking price offer. If the vendor tried to sell it when Nintendo dominated the flat I believe it would still be languishing on the market. The client afterwards admitted that it was the best thing he did.
So vendors – make sure you fluff your pillows, fill those cracks, vacuum that carpet and, as dull as it sounds, keep it neutral!
Chloe Leefe – Sales Director, Kensington
View property for sale in Kensington
View property for rent in Kensington
Read more about houses in Kensington
https://www.mountgrangeheritage.co.uk/wp-content/uploads/2015/11/Chatworth-Court-Reception-photo-2-high-res-copy.jpg
299
450
charlotte
https://www.mountgrangeheritage.co.uk/wp-content/uploads/2018/05/mountgrange-heritage-logo.png
charlotte
2015-11-10 11:55:19
2017-08-16 13:13:35
How to sell your house fast