Kyle Buchanan is a partner at Buchanan Partnership architects and worked recently with Mountgrange Heritage on the design of the innovative flower stall outside our St Helens Gardens office.  Read his permitted development guide to see how you could extend your home without planning permission.
You've seen your dream home, admittedly it's a bit of a project, it's a couple of bedrooms short of a sleepover, doesn't have an indoor toilet, but… Many of us buy a house with a view to renovating, which may include enlarging or extending it. Extending your new home can require planning approval, however many changes to a freehold house can be carried out under what are known as permitted development rights, which can simplify the process no end.
Permitted development guide to extend your home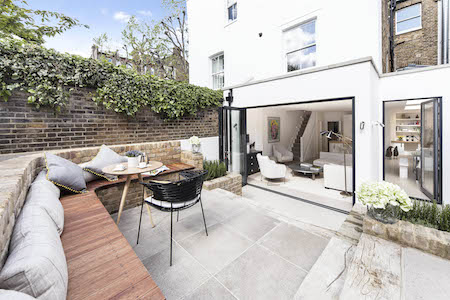 Permitted development rights apply to freehold houses and allow a wide range of changes to be made without making a formal planning application. Detailed guidance on the changes allowed under permitted development (PD) can be found in the publication "Permitted development for householders: Technical Guidance". PD is split into eight 'classes' the most useful of these (if you are looking to increase the size of your home) are Class A, which covers rear and side extensions, and Class B which covers loft conversions.
With certain conditions Class A lets you carry out a three or four metre rear extension, depending on whether your house is in a terrace or detached respectively. In 2013 the government doubled this amount in some circumstances under what is known as the "Neighbour Consultation Scheme" which is effectively supplementary legislation increasing permitted development rights for residential properties.
Class B allows a loft conversion with a volume of up to 40 cubic meters for a terraced house and 50 for a semi-detached or detached house. The government announced proposed changes to roof extensions in the summer budget of 2015, which are likely to make more development possible without planning, including being able to add a storey to your house, although at the time of writing this is yet to come into force.
Permitted development application
A permitted development application is similar to a planning application, although requires slightly less information. Some councils will process permitted development applications more quickly than planning applications, however we have found this to be quite variable.
You don't actually need to apply for a Lawful Development Certificate, (the proper name for a permitted development application) to carry out works that are PD, however there are a couple of good reasons why I think it is always worth doing. The first is that PD rights can be quite complex and in my view it is worth having the peace of mind that what you are doing is acceptable. This is particularly the case with supplementary legislation such as the Neighbour Consultation Scheme for which a number procedures need to be followed.
The second important reason why I think it is worth making a permitted development application is that if you ever come to sell the property the buyer's solicitor will be likely to want confirmation that work that has been carried out was permissible under PD rules. Having a certificate to say this is the case can save a lot of difficulty later on.
The benefit of permitted development
One of the interesting things about permitted development is that it is not subject to the same scrutiny as a planning application. Applications are assessed on basic characteristics such as volume and height, and there is a loose requirement to use 'similar materials' as the existing. Apart from these PD can allow you a much greater freedom in the design of a project, and in some instances can even allow you to do things that a planning application might not. A clear example of this is where local planning policy might prohibit dormer roof extensions (which is often the case), but that such an extension would be allowable under PD.
Moving goal posts
It is important to be aware that even if you do own a freehold house, there are certain instances where PD rights are restricted including within Conservation Areas, and if your property is Listed. PD rights can also be removed on specific buildings or in specific areas, and this should always be checked with the local planning department. Restrictions would normally be in the form of a restrictive condition on a planning approval (if the property is relatively new) or what is know as an Article 4 Direction. Additionally PD rights do not apply to flats, even if they are part of a sub-divided house, and most external changes to a flat will require planning permission.
Planning Legislation in the UK, including Permitted Development rights, have seen several sweeping reforms in the last two years, and seem to pop up in the mainstream media quite regularly as a result. PD rights can be be a very powerful tool in extending your home, and can offer a useful shortcut to getting more space. They do however have pitfalls, and with pressure on housing supply it seems likely that PD rights will continue to be seen as a quick fix for some time to come, so expect more changes.
In summary PD can be refreshingly simple but don't make any assumptions, as the goalposts keep moving. At times the situation changes so quickly that we have found even Local Authority Planners aren't fully up to speed with the details of changes.
Kyle Buchanan
https://www.mountgrangeheritage.co.uk/wp-content/uploads/2015/09/PD-blog-garden-3.jpg
300
450
charlotte
https://www.mountgrangeheritage.co.uk/wp-content/uploads/2018/05/mountgrange-heritage-logo.png
charlotte
2015-09-22 09:59:39
2018-09-13 13:48:59
Permitted Development guide for householders