Bevington Primary School in Notting Hill is now amongst the top 3% of schools in England, raising hundreds of places from 430th to 11th in the primary schools league table. Mrs. Matthews, Headmistress, explains how she has created an environment for her pupils to achieve this very high level of progress.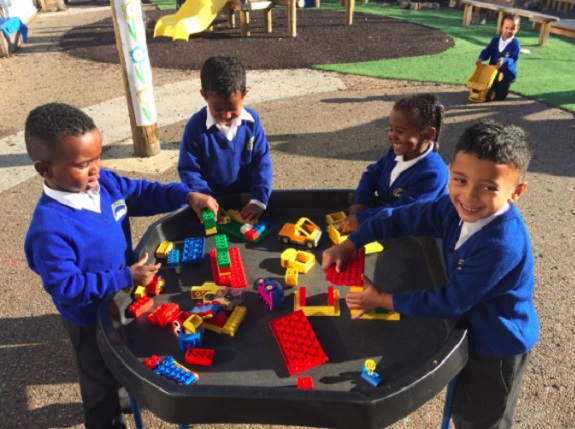 Give us your top 5 tips to make a happy place for children to learn
At Bevington we really believe that children are happy and can focus on learning when they feel secure. So my top 5 tips are:
strong relationships with people who know and care about them
consistency
mutual respect
plenty of positivity
a shared sense of humour
If we manage all this, then the learning flows and we can have fun.
What is the most difficult problem that you have had in your journey and how did you solve it?
There is nothing that springs to mind as the most difficult problem. We all know the challenges you can face in education these days! Bearing all that in mind you have to keep sight of what you believe is right for all the children. Nothing is insurmountable if you remind yourself it is their future you are trying to secure. So that is what I always try to do.
How was your own experience at school as a child and how has this affected your views on education and in what you do now?
I had great teachers at school. They were funny, quirky and kind. They encouraged discussion and really pushed you to think. I believe that school should challenge you and that learning is so much more than the content of the curriculum. The teachers who were most passionate about what they were teaching are the ones who will stay with me forever. They taught me so many things including how to be resilient, make links and talk to people. Those are the outcomes I want for the children here at Bevington.
Who are the most interesting people that you have met during your career so far?
Good question! It might sound a bit trite but I think people in general (and children in particular) are endlessly fascinating. You learn something from everyone you meet and that changes you fundamentally over time. In education I have had the privilege of working with some amazing leaders over the years. Both in school and out. They were principled and pragmatic. That balance is hard to learn and be true to.
Who is your role model? Who is the person that you go to for inspiration or advice?
I don't know if I have just one role model. There was a leader in my first school in Northolt who I always aspired to be like. Laura was so calm and in control- traits that I often have to work hard on! I go to lots of people who I trust and who I know will be honest with me for advice and inspiration. Think that is true of most of us really. They can be adults or children. Children often have the best ideas.
Tell us what is special about Bevington school students.
Where do you start? The children here are some of the best people that I have ever met. They are funny and clever and kind. They look out for each other and want others to succeed as much as they want to succeed themselves. Education is important to them. They want to grow up to contribute to the world around them and make it a better place. Many of them know what it is like to not have a voice and the consequences of that. We don't want that to be part of the future for our pupils ever.
Which are your favourite spots, places to go, restaurants, cafes, local shops, etc., in the area? And why?
There are so many great places around here especially when it comes to finding things to eat which is always a very motivating factor for teachers! I love the market because of all the choice you can get there and the local shops that are run by families who have been here for years like Makan. Regular lunch time spots are Leafwild, Snaps and Rye, Bluebelles and the Golborne Deli- all their food is delicious and the staff are so lovely. The cakes and pastries in Lisboa are also outstanding. There are some brilliant shops to visit in the area like Ally Cappelino and Rellik- although not often on a teacher's salary J If you have never visited you really should. It is a fantastic area.
More from our Blog
Local personalities in Kensington: Wicklewood
https://www.mountgrangeheritage.co.uk/wp-content/uploads/2019/03/Screen-Shot-2019-03-14-at-17.41.35.550.jpg
410
550
Judith Pons
https://www.mountgrangeheritage.co.uk/wp-content/uploads/2018/05/mountgrange-heritage-logo.png
Judith Pons
2019-03-26 10:04:00
2019-03-26 10:14:55
Local personalities in Notting Hill: Bevington Primary school