It is hard to believe I have been involved with Kensington property management and refurbishment for the last 30 years!
I was brought up in the Isle of Man then trained in pathology at Bristol University but quickly realised that I am essentially a people person and wanted to do something more commercial with my life. My father had his own building company so I suppose it was not a surprise that I found myself gravitating to do a similar line of work when I joined Marsh & Parsons on Kensington Church Street in 1985.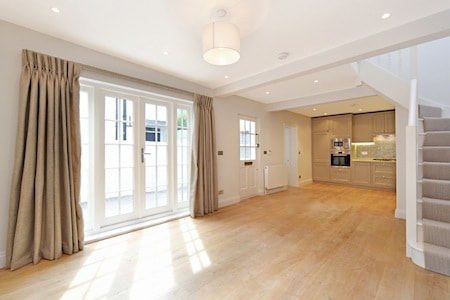 I founded Mountgrange Heritage in 1999 and it was only when I started from scratch did I realise that what I like to do best is problem solve. Everything since then has been an exciting learning curve – and that includes watching our business flourish from an office above shops on Kensington Church Street to having four offices across west London.
The job itself has not changed in that we look after our clients' precious property assets on their behalf and attend to maintenance and repair issues raised by a tenant, but that is not where our role stops. To provide a thorough service for our clients we need to oversee all aspects of the property and that means responding efficiently to issues that arise no matter how great or small – it could range from excavating a basement to tackle a damp issue, meeting surveyors for a planning or party wall matter to simply taking the time to find a persistent leak or squeak!
I have seen many changes over the years to the way Property Management services have evolved but we have always worked closely with our lettings department; we never fail to have at the back of our minds that any works or improvements have to be cost effective, practical for future maintenance and commercial to ensure that we keep the property as marketable as possible for another tenancy or sale.
Gone are the days when inventories listed Austrian blinds and even face flannels in the list of linens provided automatically for any tenancy – nowadays we promote lettings without linen and only provide kitchen packs as an option to secure a deal! In the past the legislation was minimal but now our property managers have the legal checks they need to sign off as their number one priority before moving through the checklist to ensure a house or flat is handed over in tiptop order.
I value the loyalty of our landlords and often manage properties that may even be let by other agents on their behalf; I think they appreciate the continuity that I and our property team can offer; our landlords profile has not changed significantly over the years being a good blend of overseas investors and local property owners but there are definitely more and more buy to let landlords who have the bottom line firmly in their sights.
To this day there is nothing more satisfactory than moving a tenant into a property – perhaps one where we have refurbished the kitchen and bathroom to ensure the top rent is achieved for a longstanding client. Less rewarding are our regular wrangles with the utility companies but perhaps we can find a solution to that problem in the next 30 years!

 Read more about our property management services
Thalia Bryan
Director – Head of Management and Refurbishment
8 July 2015
https://www.mountgrangeheritage.co.uk/wp-content/uploads/2015/07/Exterior-low-min.jpg
300
450
admin
https://www.mountgrangeheritage.co.uk/wp-content/uploads/2018/05/mountgrange-heritage-logo.png
admin
2015-07-07 17:02:54
2017-01-26 15:52:21
My life working in Kensington Property Management