We love Kensington with its bustling high street, independent shops and eateries, wonderful village feel and accessibility to the beautiful open spaces of Holland Park and Kensington Gardens.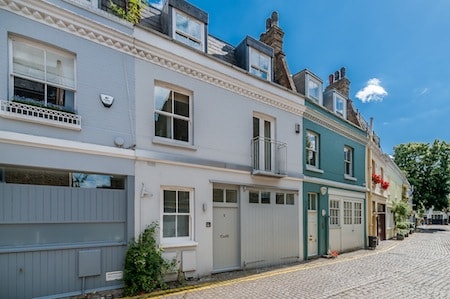 But what we love most about Kensington are its houses; there is such an incredible variety of property in Kensington that there really is something for everyone. Below is a guide to the best Kensington houses.
Victorian and Edwardian gems
Kensington has the best examples of architecture in London for almost every era from listed Georgian town houses, grand Victorian terraces, Art Deco lateral apartments, mews houses and cottages to purpose built portered blocks.
The best Victorian family houses can be found on roads such as Scarsdale Villas and Abingdon Villas. Over the years many of these handsome Victorian buildings have been converted from single dwellings into stylish apartments, lining streets such as Lexham Gardens.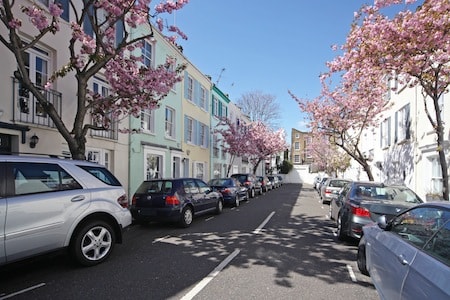 Just a short distance away on Lexham Mews, Lexham Garden Mews and Radley Mews you will find some wonderful mews houses, big and small. Mews houses were built during the 17th and 18th centuries usually behind large city houses on small service roads and were used to house the horses and carriage on the ground floor with the servants' living quarters above. These days the majority of mews houses have lost their equestrian use and have been converted into charming and quirky homes that have become very popular precisely because of their character.
Charming Kensington cottages can be found a few minutes away on the very pretty Blithfield Street, recognisable for its pastel painted houses and lovely tree-lined street. These houses tend to be smaller making them popular with couples, downsizers, small families and people looking for a pied à térre in London.
Moments from Kensington High Street you'll find a wonderful array of mansion blocks such as Wynnstay Gardens, Iverna Court and The Cedar Estate. These blocks provide excellent lateral living, much beloved of mainland Europeans, with bright and spacious accommodation and entertainment areas.
Kensington also boasts larger houses situated on the Phillimore estate which was developed by the Phillimore family who acquired the land in 1696. The family have taken an active interest in it ever since with the fifth Lord Phillimore currently living in one of the houses. The estate is well looked after by its estate management with responsibilities to preserve its unique identity falling to both the trustees and the residents. It boasts both Freehold and Leasehold properties as well as some rentals. The 'Phillimores' as they are known locally also have the added benefit of being a stones throw from the gorgeous open spaces of Holland Park.
If you prefer something a bit more modern Kensington also has some wonderful purpose built portered blocks with lifts, which are perfect for those who want something a bit more contemporary, practical and functional. The best of these can be found at Chatsworth Court and Marlborough Court.

 Search houses for sale in Kensington


 Search houses to rent in Kensington
Chloe Leefe
Associate Director – Sales, Mountgrange Heritage
14 July 2015
https://www.mountgrangeheritage.co.uk/wp-content/uploads/2015/07/6-Blithfield-Street-min.jpg
300
450
admin
https://www.mountgrangeheritage.co.uk/wp-content/uploads/2018/05/mountgrange-heritage-logo.png
admin
2015-07-14 13:23:05
2017-01-26 15:58:41
Kensington houses – the incredible variety on offer