Kensington & Chelsea Lettings Market Report Q4 2017
Welcome to the quarterly Kensington & Chelsea lettings market report for Q4 2017
This report covers September to December 2017 and covers the Notting Hill, Kensington, North Kensington and Kensal Rise areas of London (W2, W8, W10, W11, W14 and NW10)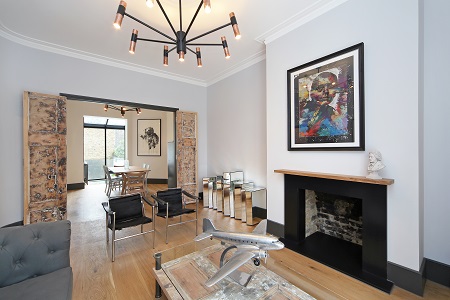 Overview – Kensington & Chelsea rental market Q4
The last quarter of 2017 was busy but tough for the Kensington & Chelsea market.  Realistically priced properties in good condition rented well but those in need of updating or considered to be too expensive lingered on the market.
Our short let department continued to perform well as landlords were willing to consider both long and short-term tenancies to avoid vacant periods.
On the flip side, nearly 20% of the tenancies negotiated in 2017 were for two or three year fixed terms – great for landlords!  There are two main drivers for this; one is that rents are lower than they have been for several years with tenants wanting to tie themselves down to these prices. The second is that people seem to feel that while everything else around them shifts, at least their choice of home is shrouded in some certainty.
Headline figures
1.1% – three month change in achieved price
+35.9% three month change in in transaction volume
£41 average achieved £ per square foot per annum for a 2-bed flat
6.9% average discount on initial asking price
-27.9% annual change in the number of available properties
Key statistics
Rental values averaged £646 per week for flats and £1,404 per week for houses over the last 3 months
Properties let over the last 3 months achieved an average of £42.47 per square foot per annum in rent, down from £41.89 at the same time last year
The number of properties let over the last 3 months was down 1.6% versus the same period last year but up 49% from 3 months ago
Achieved rental values fell by 1.4% compared with the same period last year and 1.1% versus 3 months ago
Current availability
92 average number of days current inventory has been available
37.4% of properties available have been reduced in price
11.9% percentage of properties currently under offer
73.2% of properties have an asking price of less than £1,000 per week, up from 71.5 % from the same time last year
8.9% of properties have asking prices of more than £2,000 per week.
36.7% of flats and 41.6% of houses currently available have seen a reduction in asking rents since they were first put on the market
Expert view
In the fourth quarter of 2017, we saw a difficult but hectic market with plenty of business being done. One and two bed properties under £650 per week were snapped up quickly by young professionals. Well presented, correctly priced properties also achieved good rates, but a lot of old stock lingered on the market due to being over-priced and/or in poor condition. Tenants are increasingly savvy about what they pay and they have high expectations about the condition of the properties they want to live in.
Tenants are keen to negotiate on asking prices and there is currently a gap in rent expectations between tenants and landlords in our area with tenants pushing hard to get costs down. I believe we will see further price adjustments as the Notting Hill and Kensington market faces strong competition from from other up-and-coming areas.
New instructions were down slightly at the end of 2017 but tenancy renewals increased as more tenants opted to stay put for a further term. This is good news for our landlords as tenancies become more stable. In many cases landlords are able to achieve rent increases on extensions normally in line with the current Rental Price Index (RPI).
At the end of 2017 we witnessed an increase in confidence at the higher end of the market with more families on the move.  There is currently very strong demand for large family houses in Notting Hill and Kensington.  However landlords should take note; corporate finances have tightened and living allowances have gone down which has had a knock on effect on rents.
If you're thinking of letting or renting property in Notting Hill, Kensington, North Kensington and the surrounding areas, ensure you get expert advice. Contact our Letting Directors today to book your free consultation.
More from our blog
Mountgrange Heritage posts its best results in nine years
Kensington & Chelsea property market report Q4 2017
Be the first to write a comment.