If you buy a house in Kensington (which is in the Royal Borough of Kensington and Chelsea – granted royal status because Queen Victoria was born in Kensington Palace), you will be making a home in one of the most affluent and beautiful areas of London but that doesn't mean that it is a bit dull. Far from it! I've worked for Mountgrange Heritage in Kensington for several years now and it still has the ability to surprise me every day. Here are my six best things about buying a house in Kensington:

1. Proximity to two of the best parks in London
Even though Kensington is just three miles from the centre of London and densely populated, residents still have access to huge amounts of green space. Most parts of Kensington are no more than a 10-15 minute walk to either Hyde Park with its Serpentine Lake and Gallery or Holland Park, set among the ruins of Holland House and famous for its free roaming peacocks and gorgeous Japanese garden.
2. Kensington Villages
Living and owning a property in Kensington is a real pleasure: its community feel and calm atmosphere makes this a popular place to live. Although in the heart of the metropolis, Kensington has some lovely little pockets where villages have been created with their own tight knit communities and independent shops. Our office on Stratford Road is in one such village; there is also Hillgate Village towards Notting Hill and the area around Thackery Street.

3. Varied but beautiful architecture
If you make the choice to buy a house in Kensington you'll need to consider carefully what type of property you would like to live in, as there are so many different styles of property to choose from. Working in property, I have a particular interest in the architecture and love the fact that rather than road after road of terraced Victorian houses, the architecture is never the same. Here you'll find quirky mews houses, high ceilinged apartment conversions, Victorian and Edwardian mansion blocks with grand lateral apartments, huge villas and stunning stucco-fronted properties.
4. The variety of people
London tops the list of global cities and nowhere is this more evident than in Kensington. The people here are so varied with a real sense of international presence. Its well known that there's a significant French community here but you'll find evidence of so many more nationalities. This is reflected in the variety of restaurants with cuisines from all over the world. Having said this Kensington still retains its quaint English feel – the reason most people came here in the first place! The diverse demographic and 'home-grown' feel of the area, along with the amazing properties available Kensington one of the best places in London to buy a house.
5. Shopping and eating!
Kensington High Street is one of most popular shopping streets in London with high street brands rubbing shoulders with upmarket boutiques and of course the wonderful Whole Foods Market which is a true foodies delight. Just off Kensington High Street is Kensington Church Street, which is filled with quaint antique shops, bookshops and cafes; the perfect place to while away a few hours. One of my favourite haunts is Exeter Street Bakery on Argyll St. Amazing coffee and treats!
My favourite eateries in Kensington range from the wonderful Launceston Place and Kitchen W8, which are very smart yet retaining a 'local' feel and well regarded gastropubs such as The Scarsdale Tavern and The Abingdon.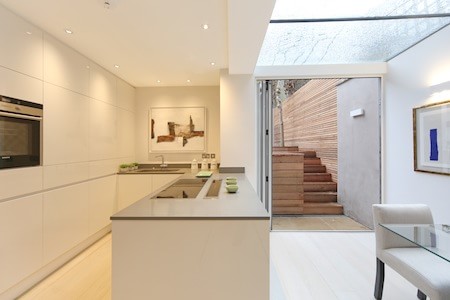 6. New developments
Though perhaps not hugely popular with local residents, the new developments at The Design Museum, Odeon Cinema and Earls Court exhibition Centre have put these areas more on the international map which can only be good for the area and house prices.
Kensington Property Prices
Because of its varied architecture, property prices in Kensington vary hugely; although buying in Kensington can be a challenge due to its up-market value, it is still possible to buya small apartment for £600,000 though realistically you'd expect to pay around £950,000 for a good one-bed flat. To buy a house in Kensington, prices can rise to upwards of £4-5million for a 4-bed family home. The average house price in Kensington is currently £2.5million.*
*data taken from home.co.uk

 Search property to buy in Kensington


 Watch our Kensington area video guide
Chloe Leefe
Associate Director – Sales, Mountgrange Heritage
2 March 2015
https://www.mountgrangeheritage.co.uk/wp-content/uploads/2015/03/Old-Court-House-ext-min.jpg
300
450
admin
https://www.mountgrangeheritage.co.uk/wp-content/uploads/2018/05/mountgrange-heritage-logo.png
admin
2015-03-02 12:41:03
2017-01-26 11:15:41
The best thing about buying a house in Kensington