Meet the Mountgrange Heritage Directors
The Mountgrange Heritage Directors not only run the business but also own it. This means they are personally invested in the success of Mountgrange Heritage and the service it provides. They are immensely proud of the business and every decision is made for the benefit of clients, not shareholders.
Michael Wilson
Director – Head of Sales
020 7243 7888
michael@mountgrangeheritage.co.uk
Michael has over 20 years' experience in selling residential property and holds both a Fellowship in the National Association of Estate Agents and an RICS affiliated honours degree. His energy and enthusiasm are matched equally by his uncompromising professional approach to the business. Michael is a keen cyclist and a lover of the great outdoors; but finds much of his spare time is consumed by his twin daughters.
"The property market in central London remains unchallenged as the most important in the world. I have an outstanding team of property professionals who love every minute of dealing with a constant flow of fascinating properties and people."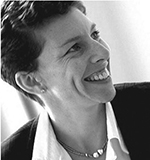 Thalia Bryan
Director – Head of Management & Refurbishment
020 7243 7880
thalia@mountgrangeheritage.co.uk
Having worked in Kensington and Chelsea for more than 25 years Thalia is one of the best known faces in the local market. Since she set up Mountgrange Heritage in 1999, Thalia has built a solid reputation on the first-class management and refurbishment services she offers to clients, many of whom have been with her for many years.
"Although I trained in haematology I realised very quickly that it was property that was in my blood! I get immense satisfaction in managing clients' properties, many of whom live overseas and need someone they can trust to deal with any issues promptly and efficiently."
Liz Thomson
Director – Head of Lettings
020 8962 5912
liz@mountgrangeheritage.co.uk
Liz joined the Lettings Department of a well-respected local agent at the age of 25. Having studied modern languages and business at university, she had always thrived in a sales environment. Within three years she was running the lettings team and had amassed a tribe of loyal clients. Now with over 20 years in the business, Liz has a well-deserved reputation as a big hitter in the local lettings market and unrivalled experience of dealing with Landlords and Tenants.
"I'm a frustrated architect at heart and I never tire of property. I like to build long-term relationships with my clients; nothing is more rewarding than knowing they completely trust me with their biggest investment."
Mille Cycon
Executive Assistant
020 8962 5914
mille@mountgrangeheritage.co.uk
Since moving to London from her native Denmark in 2003, Mille has built up a professionally varied background. In her role as Executive Assistant for Mountgrange Heritage, Mille has to keep her eye on the ball to ensure communication runs smoothly throughout the company. Mille has worked for a range of independent companies within hospitality and enjoys working for Mountgrange Heritage with its proudly independent identity and where the client comes first.
"Superb customer service has been at the forefront my entire working life and is something I value really highly, whether it's aimed at clients or colleagues."